Ran Remembers ESP-Disk Founder Bernard Stollman
Bernard Stollman
was the founder of the New York City-based independent record label
ESP-Disk
. His label released influential jazz records by artists such as Albert Ayler, Ornette Coleman, Sun Ra, Pharoah Sanders, and many others. He died April 19th following a battle with colon cancer
. He was 85.
"I met Bernard Stollman in 1963 or '64 on the suggestion of Martin Williams. Bernard felt it would be wonderful to do a couple of albums with me and we agreed that the first should be solo. We talked about the repertoire, and usually he asked musicians to write their own pieces. But, I decided it was important to play standards. My grandparents, Philip and Jessie, loved Sleepy Time Gal. Bernard admired that I wanted to perform, and was the third or fourth person to record, Lonely Woman by Ornette Coleman.
Bernard had a stylish sense of humor and was well known on Riverside Drive. I recall late night refreshments with Donald and Albert Ayler. There were lots of comfortable chaise lounges. Suddenly it was 9am in the morning and he was walking in with eggs and his mother made the best oatmeal cookies. Peko was his delightful mammal. His brother, Saul, did the drawing for Plays Solo Piano. This was a wonderful entrepreneur of free music during the turbulent time of the '60s…
Bernard should be acknowledged for making this music possible. He must also be thanked for going back to earlier roots and making unpublished sessions with musicians such as Bud Powell and Billie Holiday available. We lost someone very special this month."~ Ran Blake
CLICK HERE to listen to a 3-hour tribute from World of Echo on WFMU 91.1 FM (4/26/15)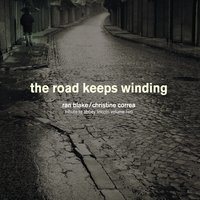 Ran Blake & Christine Correa 
The Road Keeps Winding:
a Tribute to Abbey Lincoln
Ran Blake and Christine Correa: The Road Keeps Winding
At their sublime best, Ran Blake and Christine Correa's recordings are so singular that comparisons with other performers of the same repertoire aren't relevant, so much has this brilliant music duo evolved into something that follows its own expressive rules that may be solidly based on current musicology precepts, but never feels restricted by them. Ran Blake and Christine Correa have more exterior sheen, an attractive, soft-focus, yet forthright quality in this follow-up to volume one of this set dedicated to Abbey Lincoln – Down Here Below; both one-voice-to-a-part performance practice that has swept the vocal music world. The Road Keeps Winding offers a trademark blend of voice and piano, here sounding like extensions of each other, yielding clarity that is particularly revealing in the dissonant tension of Abbey Lincoln's more intense tone-painting, while also projecting a gravity that other homages generated albeit with larger music contingents.
The program works very well, not the least because of the choice of works is astute, nearly consistently out of the top drawer. This is a splendid work, complex and expansive and the moving "Evelina Coffey (The Legend of)" which concludes the disc is a fitting testament. A complete (well, almost) recording of Ms. Lincoln's work is long overdue and this is definitely it in a definitive sort of way. The distinctive acoustic of the studio in which the music has been recorded-and the engineers who shepherded it throughout-adds another wonderful quality to this tribute. In any case, the intense humanity of the singing becomes a unifying factor in this disc.
Though I have rarely heard a recording of Abbey Lincoln's work that I didn't want to heard again and again-so much does it inspire the best efforts of its performers-this one stands with the best (all comers included) made over the years, the strengths being the purity and accuracy of the vocal lines and the sense of how forward-looking the music must have sounded in its own time. The body of each song establishes a certain harmonic field familiar to anyone who knows the music if Ms. Lincoln, though this recording underscores the Abbey Lincoln's departure from all of that when announcing each verse with characteristic inflection and expression that can waft towards heaven with hints of all that is angelic in nature.
Christine Correa and Ran Blake are more sure-footed here than any duo I know. Their interpretations are confident and exquisitely-after Abbey Lincoln-not pitch-perfect. And they are the best I have ever heard since Abbey Lincoln first sang them. Thus they are valuable additions to the discography, particularly those of the pieces on this collection. Abbey Lincoln enthusiasts – of whom I am obviously one-will find this duo and their poignant music a palimpsest of Ms. Lincoln's repertoire. As always, Ran Blake's accompaniments are splendidly sensitive as his role of a soloist on this disc. Such voice and piano dexterity is truly astonishing and well worth exploring and relishing.
Private Lessons with Ran this Summer! 
Ran will be available for private lessons starting mid-May until the end of July. If you are interested please email Aaron Hartley at
aaron@ranblake.com
.
Recap of April's Performances:
80th Celebration at MIT and Gaslighting
Ran was thrilled to see so many friends and family come to the 80th birthday celebration at MIT (curated by Fred Harris) and Gaslighting: 10 years of film noir at NEC (co-produced with Aaron Hartley). Both evenings were truly spectacular with so many wonderful musicians involved. Thank you to everyone who could make it out!

Ran Recommends
Check out Ran's calendar page for concerts he recommends in and around Boston. There's a lot of great music coming up, including many student recitals.